Video poker 
Video poker is without question one of the most popular and revolutionary gambling machine-based games in the entire world. Video poker is essentially the same as a real-life game of poker, except for the fact that the game is played via a coin operated slot-type machine or computer, instead of using real life cards against real life players. Players will instead play against the machine with the intention of building the strongest possible hand out of five cards.
Video poker rules and strategies
The rules of video poker are actually pretty simple. Players will deposit their money and will then be dealt with 5 virtual cards. They can see the cards they're dealt and have the chance to keep them or replace them in the hope of building a stronger hand. The strongest hands are as follows:
An Ace, King, Queen, Jack, and 10, all of the same suit: A♠, K♠, Q♠, J♠, T♠.
Five cards all of the same suit, so for example hearts: 3♥, 4♥, 5♥, 6♥, 7♥.
Four cards of the same rank, so: K♥ , K♣, K♦, K♠.
Three cards of one rank and two of another, so: J♠, J♥, 9♣, 9♦, 9♥.
5 cards, each of the same suit, for example: A♦, J♦, 6♦, 3♦, 8♦.
5 cards consecutively but of different suits. So for example: 5♥, 6♦, 7♠, 8♠, 9♣.
Three cards, all of an equal rank, i.e 4♦, 4♣, 4♥.
2 cards of one rank, and two of another, so: A♠, A♦, 3♣, 3♦.
2 cards of the same rank, for instance: Q♣, Q♦. Usually video poker machines or online versions pay out Jacks or better, which means that to get paid, you have to hold at least pair of Jacks (for example: J♦, J♠).
Click here to read more about the rules.
As far as tips and strategies go, some of the best tips are as follows.
Know when to hold and when to discard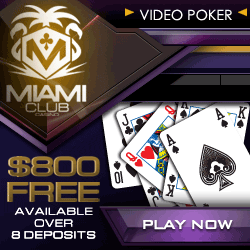 To really maximise your chances of winning, take a look at the following info regarding which cards to hold, and which to discard. To begin with, always hold a royal flush, a full house, a straight flush, four of a kind, two pair, or three of a kind. With your three of a kind however, discard the remaining two cards which could then potentially lead to four of a kind, and the potential for a full house.
Don't be scared to break up flushes or straights

If you have a straight or a flush, you can still consider breaking them up as there is the possibility of building an even stronger hand. However, only do so if you have 4 cards for a royal flush.
So, for example: If you have a king, an ace, a queen, a jack, and a 9, all of the same suit, you may then discard the 9 for the chance of being dealt a 10, which would then provide you with a royal flush. You also still have the chance of a flush with any other card of the same suit as well.
Click here for more tips.

Try out your skills by playing Video poker with us below!


Play video poker online in the best casinos in the network! Read the reviews and compare the offers: